COMMERCIAL PRINTING
商業印刷
DIRECT MAIL / ダイレクトメール
LEAFLET / リーフレット
High quality black-only personalized
variable data printing for Direct Mail.
DIRECT MAIL

ダイレクトメール
You can carry out personalized mailing with the Stream Jet system.
A one-stop solution including feeder, print transport, inspection system, and delivery is provided.
As on option, we are also able to provide a Read & Print system and duplex printing.
Sheet to Sheet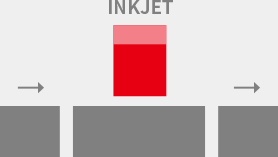 Main applications

Personalized mailing

Type of Ink

UV curable

Optimum models

SJ-N500 Standard 1head or 2heads model

Max. printing width
108mm or 220mm
Max. printing speed
100m/min (600x300dpi),
50m/min (600x600dpi)