PRINTING & PUBLISHING
出版アプリケーション
BOOK / ブック・教材
PHOTOBOOK / フォトブック
High speed and high quality full color
book-on-demand printing system.
ON DEMAND BOOK PRINT

オンデマンドブックプリント
On-demand Skyline book printing system.
With the Skyline UV-type inkjet system, you can directly print on offset papers without primer.
We are able to provide a total on-demand book printing solution from roll to sheet.
Roll to Sheet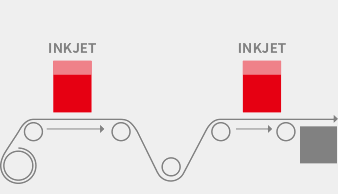 Main applications/dt>

Education books, Photobooks

Type of Ink

UV curable or Water-based

Optimum models

SJ-N750 monochrome model or Skyline CSJ-N750 full color model

Max. paper width
500mm
Min. paper width
210mm
Max. printing width
445mm
Max. printing speed
150m/min (600x300dpi),
75m/min (600x600dpi)